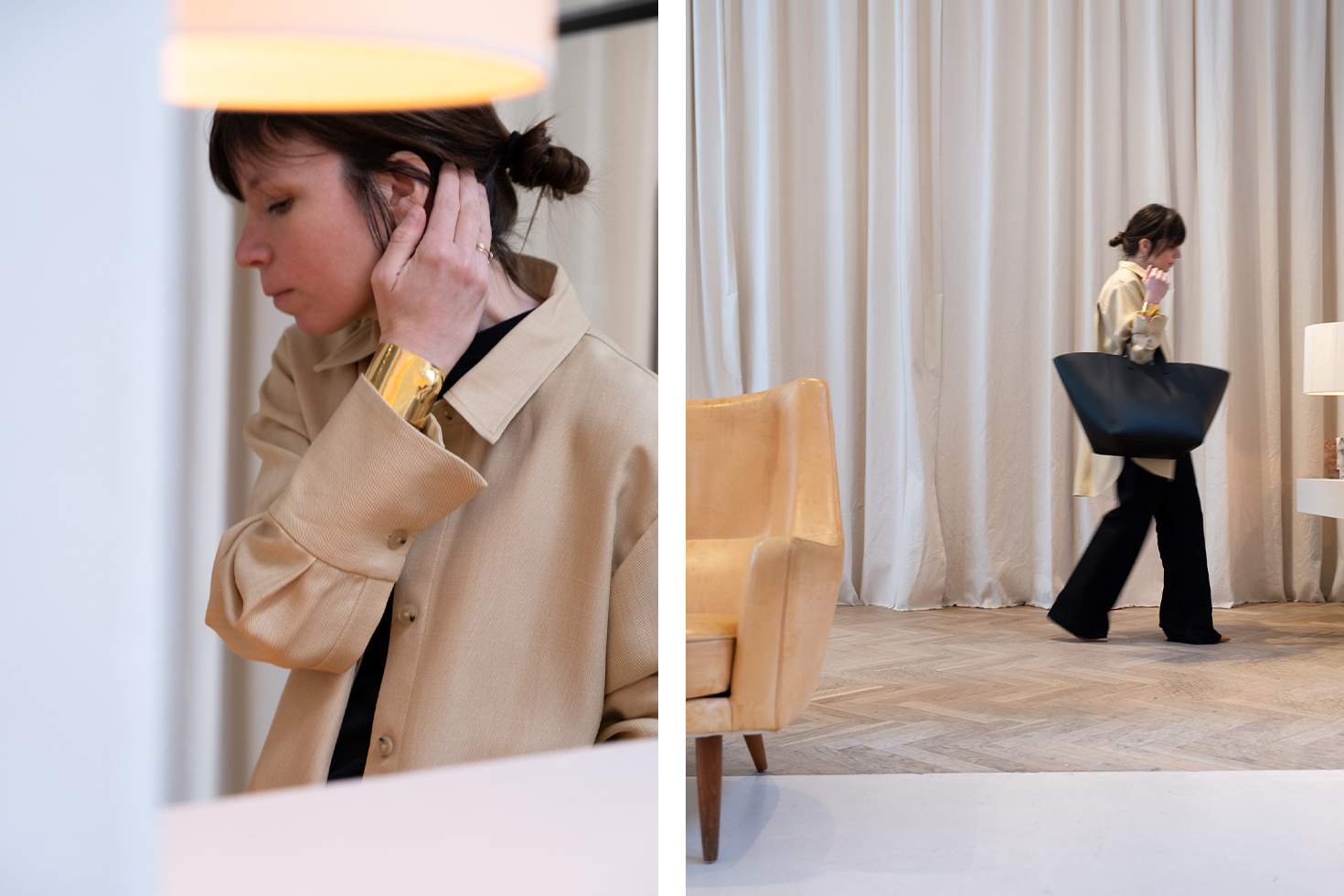 Small talk with the team in our
Sunday Best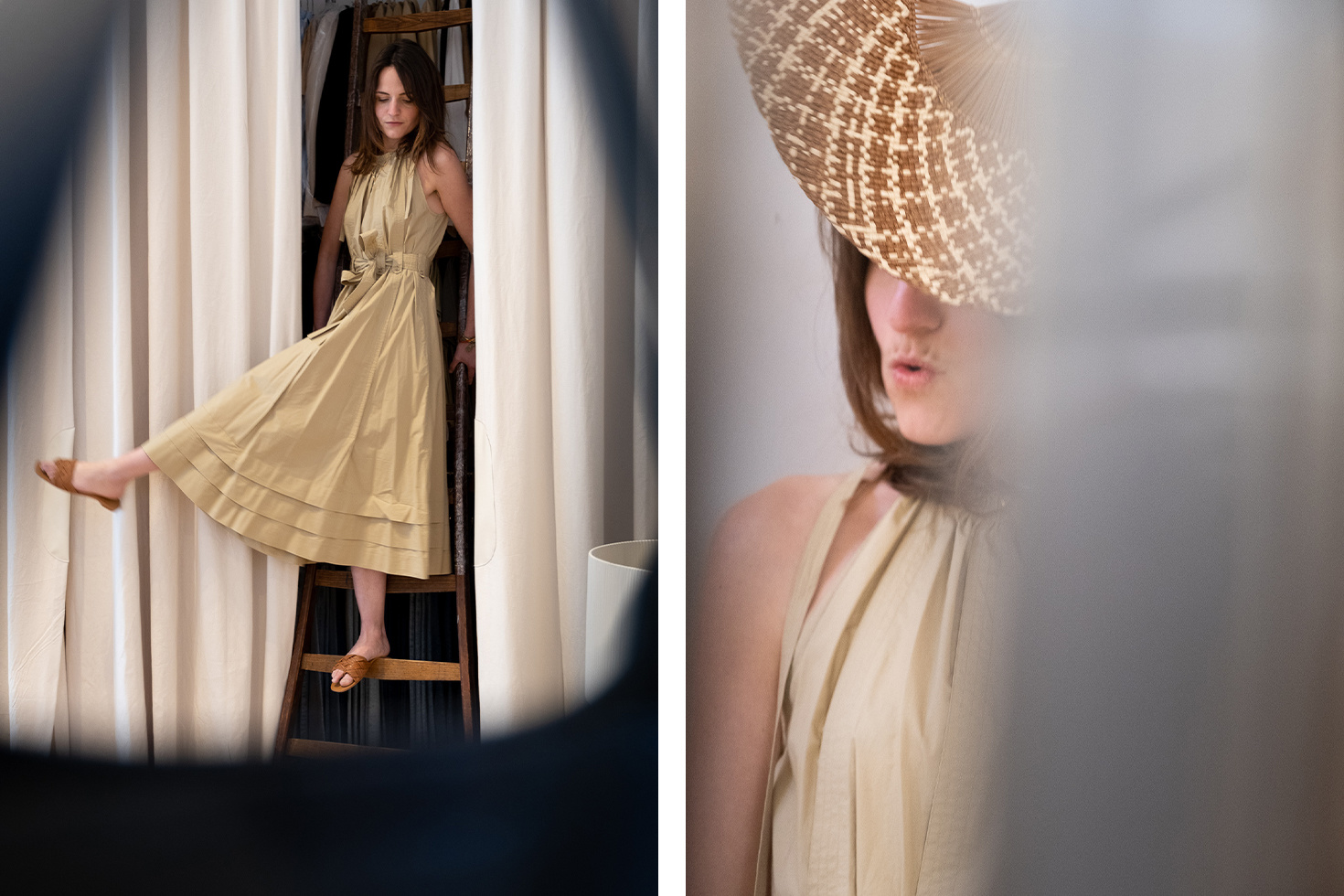 Photography Carmijn Dura
Location Objet Trouvé
Looks shop here
In Dutch there is this saying 'Op je paasbest'. Meaning you are dressed in your Sunday Best. So that is what we did! We dressed up in our favorite Summer looks and had a chat to celebrate this Easter weekend. Enjoy some small talk with the team and get to know us a bit better. Revealing our style tips, guilty pleasures, personal habits and more..
Let's start with the latest addition to the team, who is Merel Hermus?
Hey! In my day to day life I work as a research psychologist and I'm studying acupuncture. Of course besides this I love working for Objet Trouvé. So, I guess you could say that I have an interest in people haha;) Honestly though surrounding myself with inspiring and creative people is what makes me happy, and that's why I'm a proud OT'je!

Funniest moment in store?
When we listen to our own created playlist. Only high quality music allowed.. ;)

We've heard you live on scones, what makes them so good?
Haha I do!! Coffee and scones, the way to my heart. This combo is just comforting to me.

On a day off, we can find you..
Outside, walking! I love strolling around the city, especially now when the sun is out. It makes me feel relaxed and I love Rotterdam.

Fave brand in store?
This one is easy: Stand Alone. I fell in love with this brand years before I started working here. It is so unique and cool! I also really love Joseph for the timeless pieces.

This Summer, you can't go without..
Sunglasses and an oversized linen shirt.

Floor, being the eldest (and wisest;), what is your style advice?
Haha eldest yes.. but the other girls are much better at their daily styling. I don't take enough time. My tip for lazy types like me.. invest in a great blouse/jacket which can go on all your outfits and wear beautiful low heel pumps. They have got you covered in your daily style.
How do you drink your coffee?
Cappuccino in the morning and (too much) small black coffees the rest of the day.
Best place at home?
At the moment.. the sofa! Because of the view ON our small garden from here which (in my opinion) is at it's best this time of the year.
A Sunday well spent looks like..
Strolling through Rotterdam in the sun, having take away coffee and some food. Enjoying the small shops, cafés and Rotterdam's buildings and people.. I'm a city girl.
This Summer, you can't go without..
I'm in doubt.. Dihya sandal by Michel Vivien or Joseph's big tote bag.
Josje, it's your turn! What do you miss the most about buying in Paris?
Café noisette avec oeuf en coque in the morning.. or wait.. The stroll after our last appointment in the evening sun along the Canal St Martin.. or no... Vin Rouge on the corner of a random terrace.. hmm.. definitely the late night tipsy "looking for our room" in the hotel with the OT girls, which always ends up with some booty shaking in the hall way.

Secret for staying young, wild and free?
Start your day with a good day cream, after that the rule is.. there are no rules. Drink a wine when you feel like having a glass. Eat a pizza on a Monday night. Call your best friend when you feel sad AND when you're happy. Dress up when you go out for groceries. I'm feeling Snoop Dogg, what about you?

On a day off, we can find you..
Changing my bed, a fresh crispy bed is thé best !!
This Summer, you can't go without..
My Joni Dress :)

Hey Sara! can you describe your style in 3 words?
Comfortable, elegant and feminine with a wink.
What makes or breaks a good 'breakfast in bed'?
Easy does it, so a buttery croissant, fresh orange juice, scrambled eggs with a bit of chives, a coffee and a good conversation.
It's Spring! What are your fave flowers?
I literally love every flower, but I like to combine some seasonal flowers as multicolored ranunculus, daffodils, and forget-me-nots in my grandmothers small vases.
A Sunday well-spent looks like..
Waking up and take a good bath with a lot of soap. Doing groceries and spending the whole day in the kitchen to make a good diner to enjoy with my family
This Summer, you can't go without..
A good pair of Garret Leight sunglasses, and in particular the Wilson. Matches every outfit.
Next up, Nikkie! How are you?
Good, sun is out!
Tell us, what's your favorite season?
Spring and fall, the in-between seasons when changes present themselves. We get to style with items of both summer and winter closet. Mix and match. With enough variety, this gives endless possibilities. Personality is in styling.
Fave brand in store?
Joseph; the quality, the fabrics, shape and style every aspect just feels right. Fits like a fabulous puzzle.
What's your guilty pleasure?
Not sure if should repeat the adverb my boyfriend used, manic, but a tidy clean house is definitely giving me a smile at the moment. Something with mom-life in a lockdown I guess. Oh and fresh-baked bread..
This Summer, you can't go without..
The Monique van Heist Hawai Jack Orange Silk, the Hope Alta trouser and my Martine Viergever OTje -necklace; Comfortable, fluid, cheerful and stylish
Carmijn! As our photographer, what was it like being in front of the camera for a change?
Awkward.. ;) No, it was a lot of FUN! Thanks to Merel for the cool shots.
Favorite Sunday read? / Where do you find your inspiration?
Love a good blog like Doré by Garance Doré. Aesthetically pleasing Instagram accounts like @neylenegiysek and @lacooletchic I also love the photography work of Sarah van Rij, Bastiaan Woudt and Paula Codoner.
On a day off you will find me.. 
Creating! It's what I love the most and calms me down.
Best part of being an OT'je?
The clothes. Oh and of course, the team;) Being part of a 'family', sharing the same love for beautiful things.
This Summer, you can't go without..
A feminine blouse by Ulla Johnson and a big smile!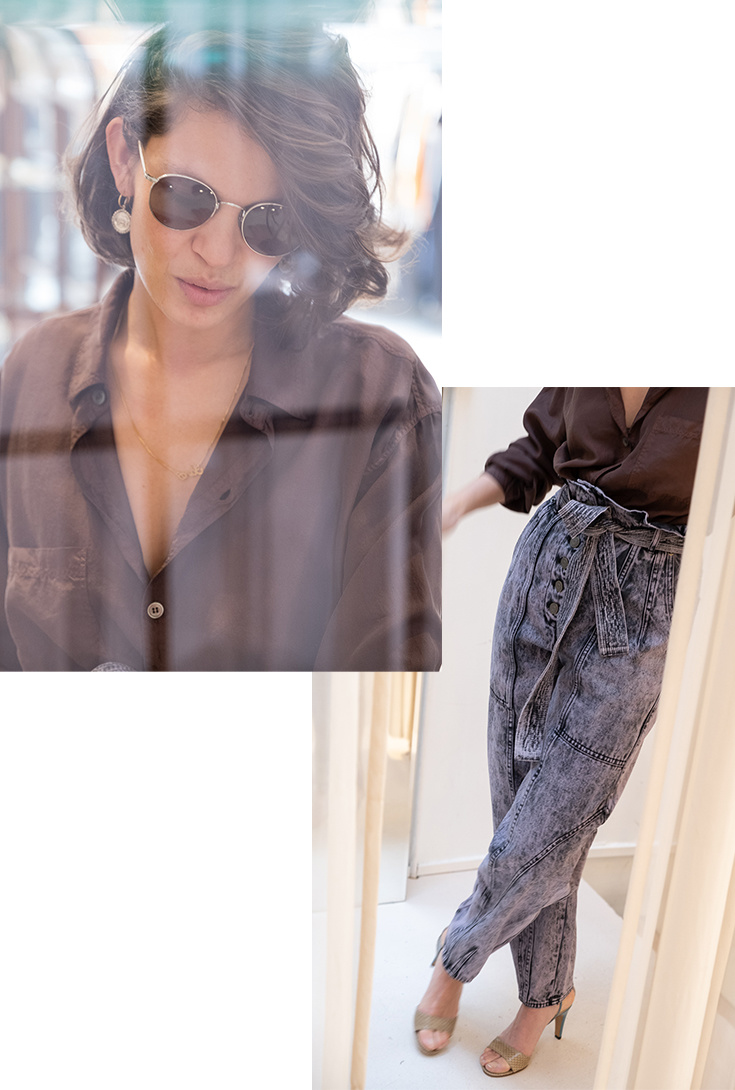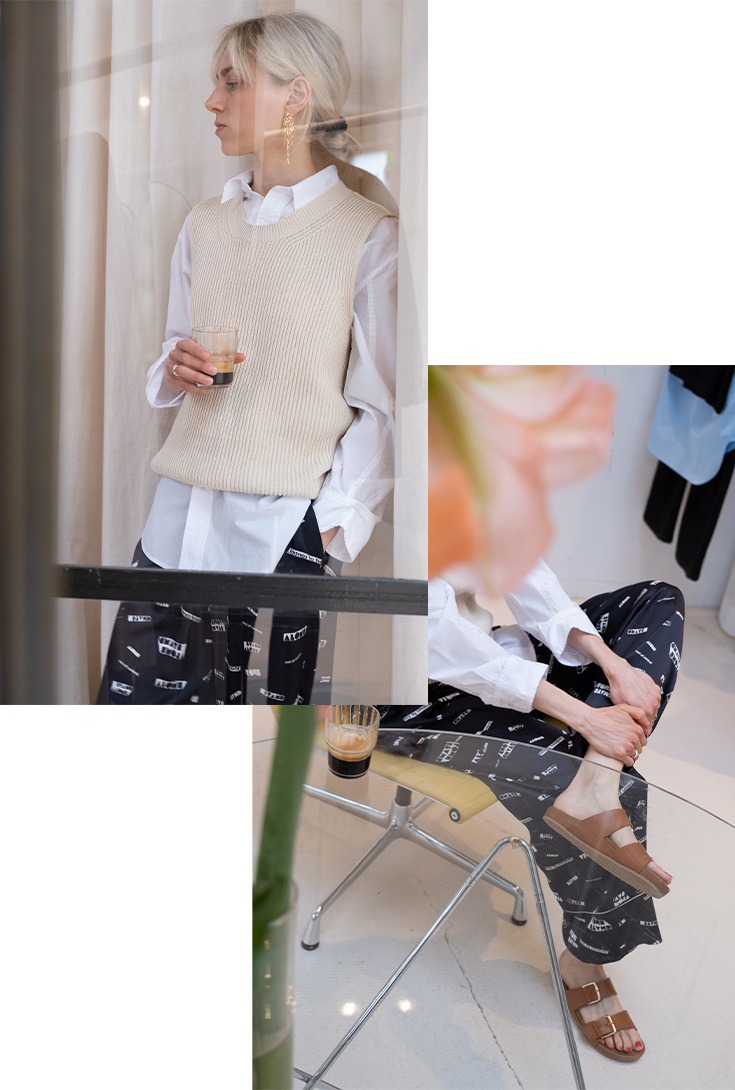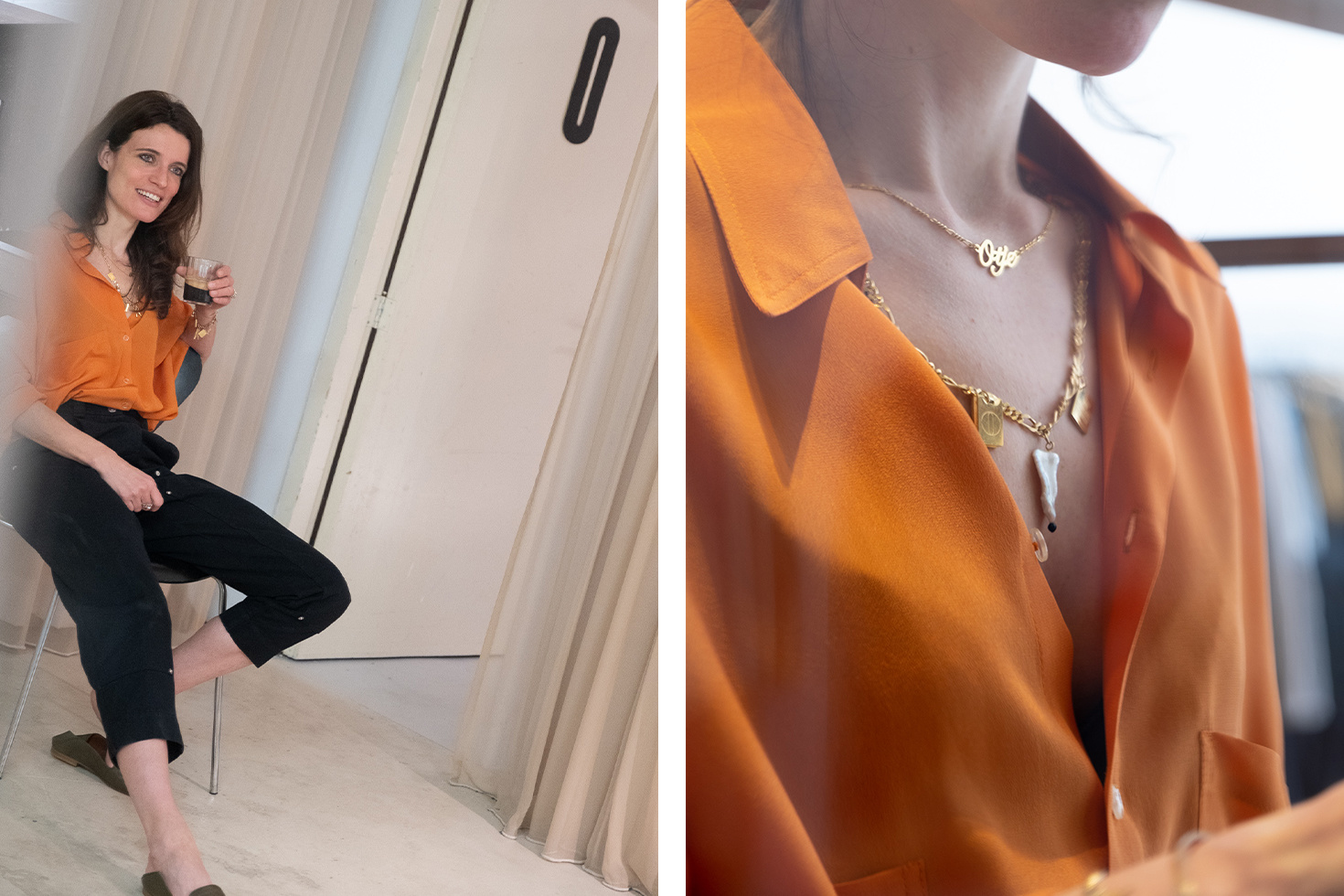 "A good pair of Garret Leight sunglasses, and in particular the Wilson. Matches every outfit."