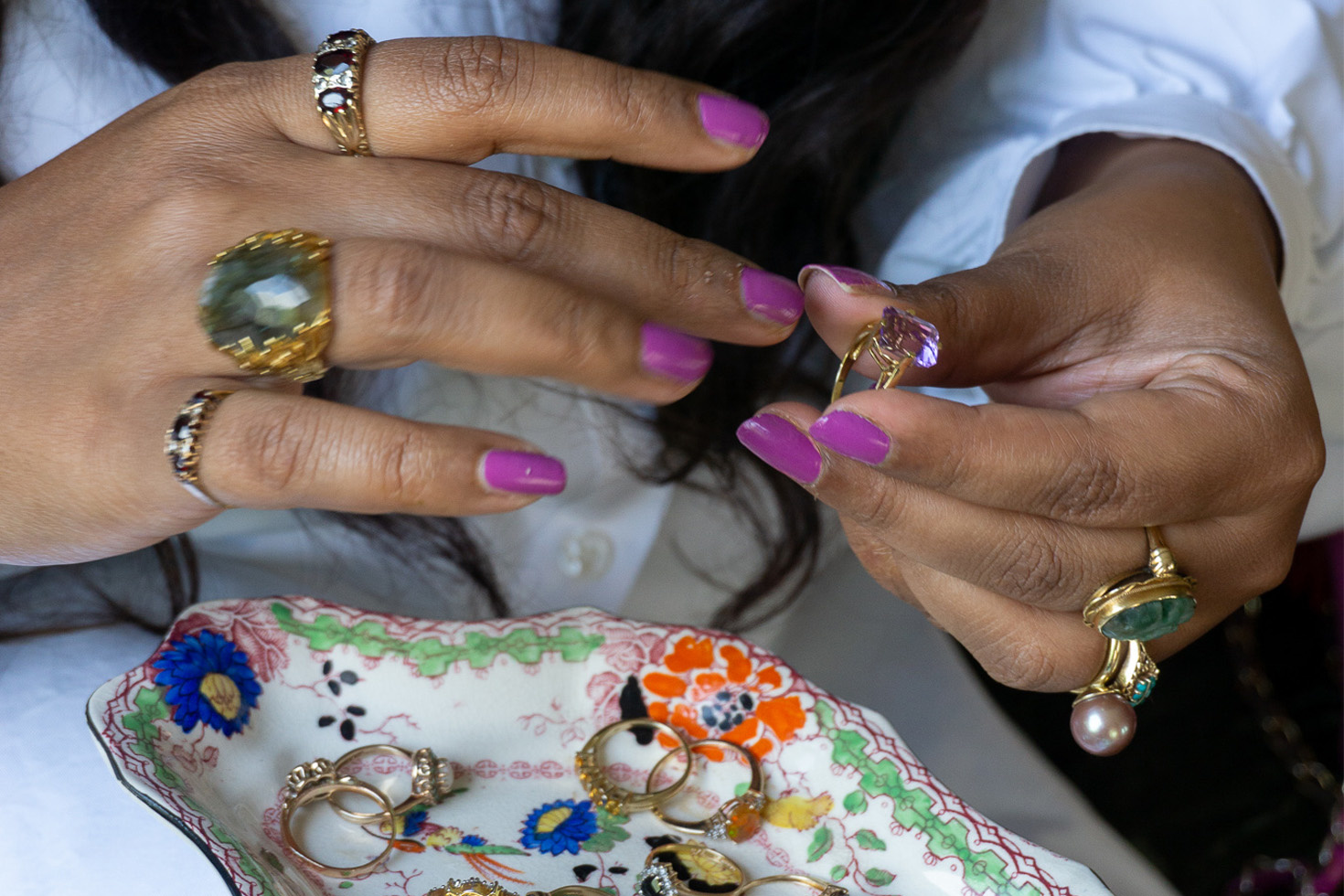 Meet the face behind the bling bling: Sharita Toonen. Founder of jewelry brand
Atelier
Métier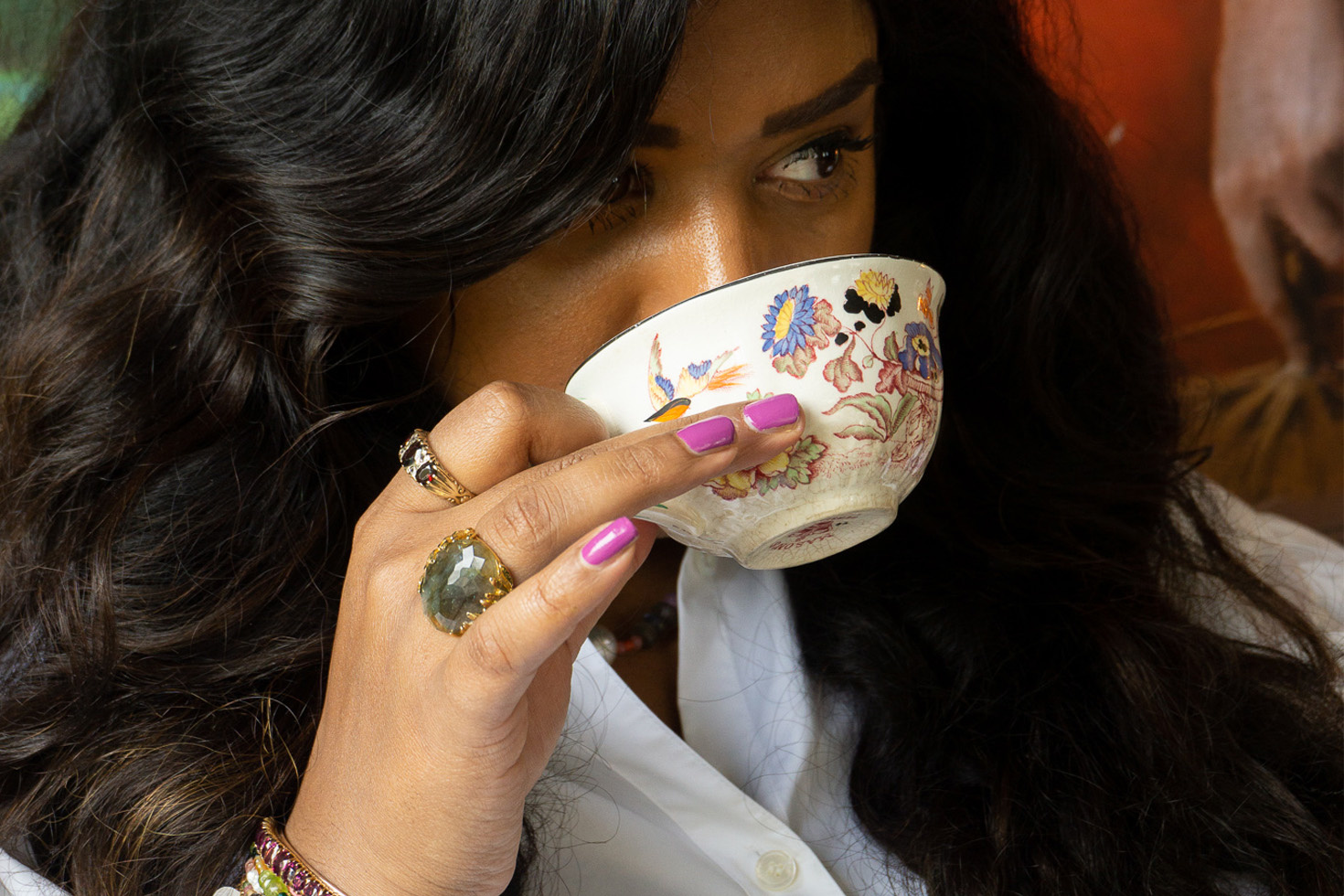 Photography: Carmijn Dura
Location: Sharita's home, Rotterdam
Lucky we get to call ourselves a good friend to a true icon, Sharita Toonen. Founder of Atelier Metier, a jewelry brand launched last summer. Selling collected, curated antiques and handmade jewelry. We meet her at home, which reflects her vibrant personality. Surrounded by colorful gems, pearls, diamonds and of course her cat 'Ollie'. We talk about life, passion and dreams. View her beautiful first collection 'Confetti' exclusively in our store and on her webshop.
Sharita, can you introduce yourself, please?
My name is Sharita Toonen, I'm 31 years old and live together with my husband in Rotterdam. Last year we both quit our jobs to make a trip around the world and go on adventures. That's when Atelier Metier took shape. I've got Surinamese roots, both my parents are from there. But I'm born and raised in Rotterdam. If people ask me: "do you feel more Surinamese or Dutch?" I tell them I'm a Rotterdammer. Friends would describe me as passionate and creative. I love thinking out of the box, explore new cultures and I find it important that people can be themselves, I love authenticity.
What does Atelier Métier stand for?
Atelier means studio or workplace, Métier stands for craft. So together it means studio of craftmanship. It's the creative space where my jewelry are designed and created. Where my love for pure craftsmanship takes place. Quality and colour are brand values. Atelier Metier is not only a brand with beautiful jewelry but it stands for making the world a better place. We support charities and empowerment of women. Atelier Metier is by women for women.
What's your connection to jewelry?
Jewelry to me is more than just material or an accessory. It has a deeper meaning, it's a way one can carry a person or a memory close to them, also known as a talisman. Ever since I can remember I'm wearing bracelets, my mom had a big jewelry box where I would dive in and play with. I associated the magic of a jewelry box with fairytales. You imagine yourself in a dreamworld. My interest for gemstones started very young.
What's your most iconic and favorite piece and why?
The Blue Lagoon Lilly necklace. I'm wearing this one in the pictures. The colors used for this pieces appeal to and suit me. But my entire collection is to my taste. The antique collection is curated by me, those are the show jewels which should not be missing in one's jewelry box. These pieces are passed on from generation to generation. I like to mix the old and the new.
And your favorite stone?
Labradorite, it's a very special, spiritual and powerful stone. The sparkle in the stone varies every time. When you look at it you'll find a whole rainbow of colours, the shimmer is beyond words.
Do you remember your first jewel?
I do, my first real jewel I can remember I asked for myself. When I was five years old my dad went on a trip and I asked him for a ring with diamant. When he came back I got a golden children ring, I remember being very disappointed, I wanted sparkles. So today, in my collection, I'm not holding back on the glitters. Also I'm still wearing my birth bead which is a Surinamese tradition, 'het boze oog', with me.
Could you describe your world in 3 words?
More. Is. More.
Fave place at home?
My bedroom, a place where I can really relax, I'm a sleepy head. I like to read a lot and bingewatch;)
Typically Sharita?
You'll never see me leave the door without my lipstick and jewels, of course. Also, I always look for a cause for celebration with lots of glitters, vodka and homemade snacks.
How would you describe your style?
Colorful and outspoken. Just my like my collection.
Fave piece in your closet?
My famous green glitter dress and my Ulla Johnson tops. As long as there's a shimmer, it will soon be one of my favorites.
If you had a time machine what time and country would you travel to?
Cuba in the 60's. Lots of colour, rum and cigars. A world which celebrates life through dancing.
Best advice from your mom?
Watch carefully what kind of shoes a man wears, it will reveal everything about him.
Style advice?
Dare to wear whatever you like. Invest in timeless pieces which brighten up your outfit and make it iconic!
At last, our favorite question;) what's your favorite piece from our collection?
The Joseph pied-de-poule coat.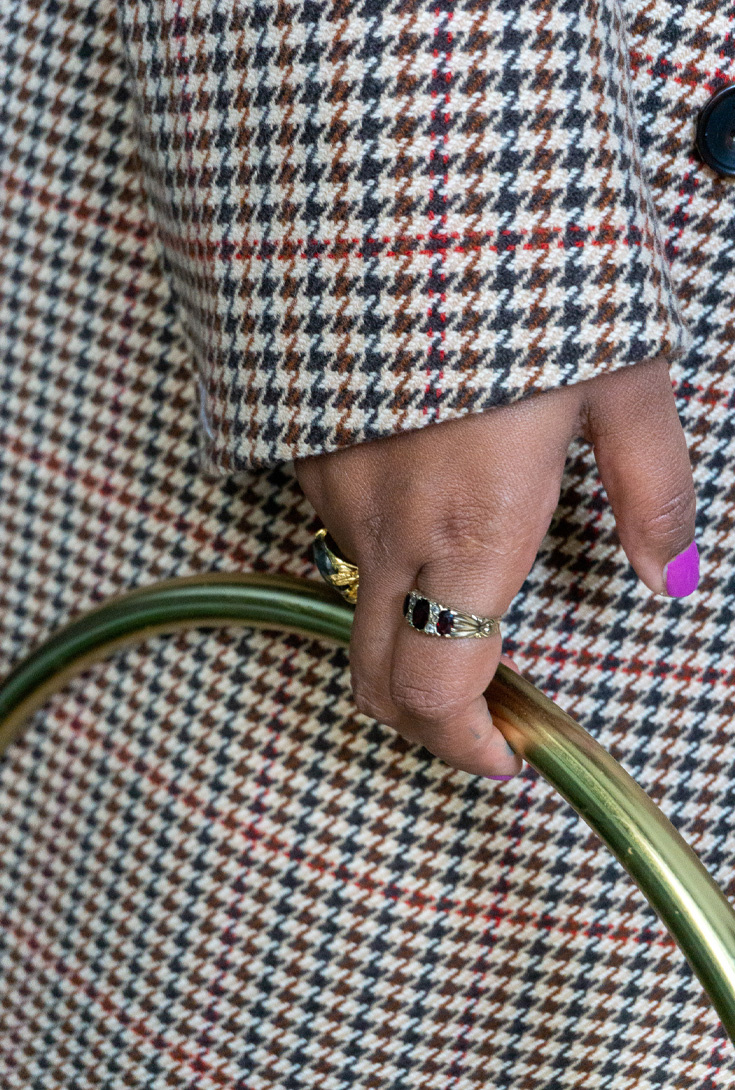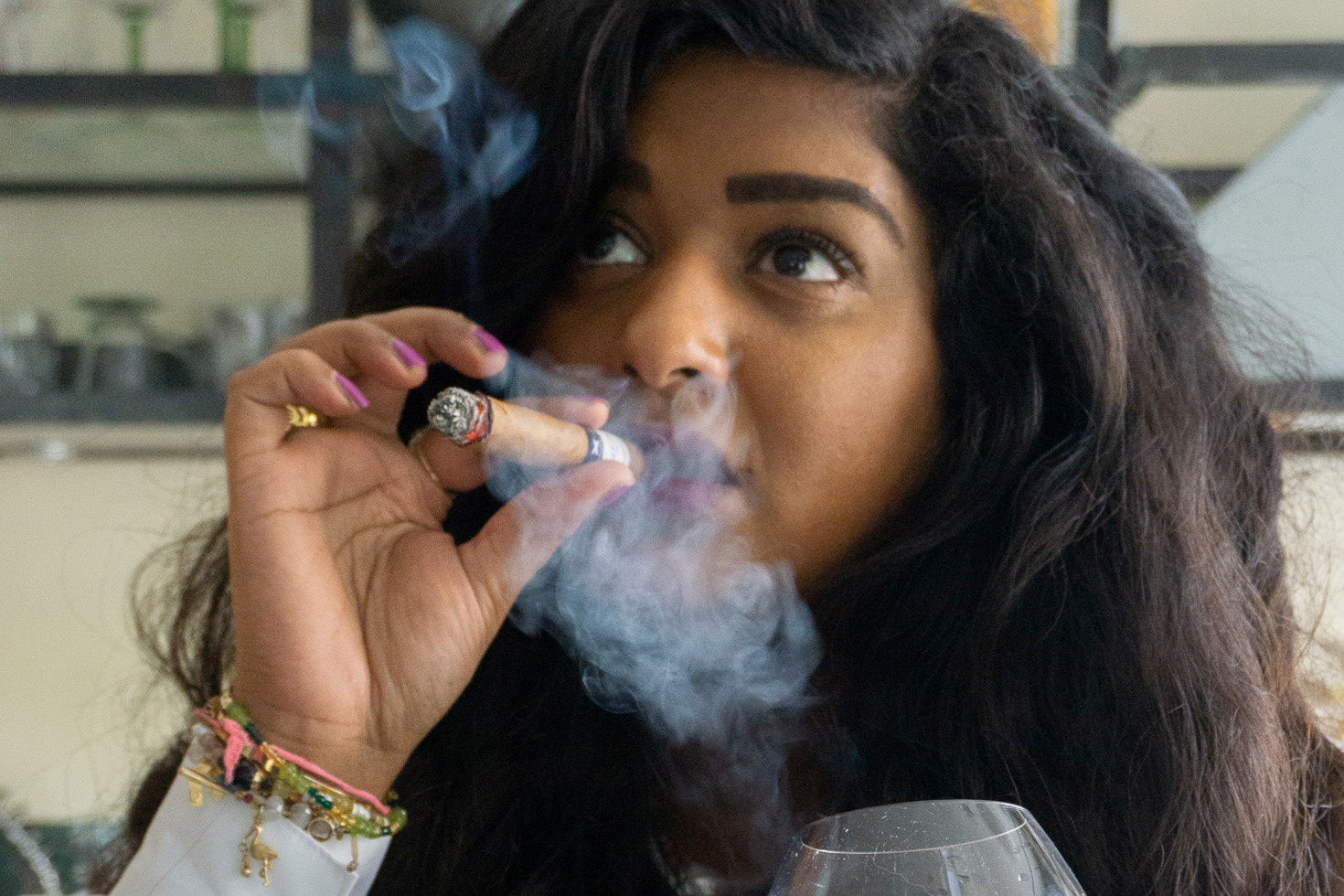 "Ever since I can remember I'm wearing bracelets, my mom had a big jewelry box where I would dive in and play with."